Glengarry Malt Club – hosted by Michael Fraser-Milne
Whisky and Food Match, 13th October 2009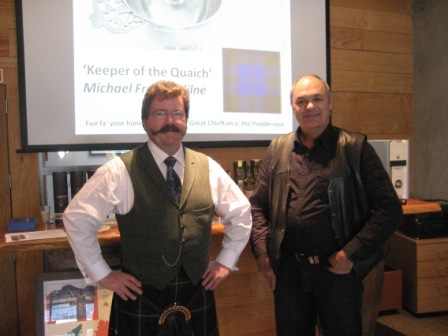 Yet again we were fortunate to be entertained and enlightened by Michael Frase-Milne from Christchurch with a wonderful lineup of single malts matched to cheeses and nibbles from Dida's Food Store. The full house of 50 sipped and yarned through a very special lineup and this was one of the highlight evenings of the year. Thank you Michael for such a wonderful night from all of us.
Jak
Glendronach 18 YO ABV 46% – Retail $155.00
Matched with Chocolate and Barry Bay Maasdam Cheese, sweet and nutty made in Akaroa
Bright deep gold with a tawny centre. Sweet aromatics of fudge and sugar. Fruit compote and glacier morello cherries. Rich dark and seductive. Flavours of stewed fruits and all-spice together with aged Oloroso and tasted walnut bread and chocolate orange. Complex and long finish.
Breath of Islay from Adelphi, 16 YO ABV 56.6% – Retail $195.00
Matched with Te Mata Port Ahuriri Blue cheese, cows milk blue, strong and creamy
Deep golden hue colour. Fresh and maritime, with salt air and fresh sea-weed, backed by the fragrant scent of bergamot. Taste is sweet with a shake of salt, then masses of scented smoke and some putty in the finish.
Knappogue Castle 1995, Irish Malt ABV– Retail $110.00
Matched with French Ossau Iraty Pur Brebis cheese, mild pale Ewe's milk, semi-soft
A heady mix of overripe banana, big oaky notes. Soft honey, ripe and pepper. Taste: big booming start, very rich, oily and mouthwatering, with a hint of oats. However to the middle there is a sweet, coppery texture. Long, hard and brittle finish. Chewy with licorice and a hint of chicory.
Bladnoch from Signatory Vintage 1992 ABV – Retail $110.00
Matched with Lemon citrus Tart
Colour, yellow with cream ridges. Body, oily and good. Nose: Grassy, lemon grass and damson. Palate, Citrus, very floral with a touch of coconut. Finish, shortish a slight linger of the lemons
Glenfarclas 15 YO ABV 46%– Retail $120.00
Matched with Pigs on Horse Back the prunes were soaked in Glenfarclas as well
A rich golden amber hue. Nose is complex, sherried, deliciously peated, light butterscotch aromas with a hint of dried fruit. Full bodied flavor with super balance of sherried sweetness, malty tones and peaty flavours. Finish is long lasting, gloriously sherried, sweet, gently smoky and distinguished.
Laphroaig from Old Malt Cask, 15 YO – Retail $175.00
Matched with Smoked Salmon
Colour, light gold. Body, big and bold. Nose, fresh, sweet, barley sugar with layers of medicinal peat/smoke. Palate, mouthwatering/coating, liquorish again sweet big ozone, sea character. Finish, Long with sweet smoke.