The third and final day of the Primeur tastings 2010, our day started early with an 8am meeting over breakfast with one of our Negociant. We then were joined by the charming Thomas Montagnac, Thomas had organised a full day of Chateau visits and tastings for us.
We started at Chateau Mouton Rothschild in Pauillac, the tasting included Le Petit Mouton, Chateau d'Armailhac, Clerc Milon and finally Mouton Rothschild. Mouton is excellent, it's a little closed right now, but did show what is has in store. It's massive, structured, yet balanced and elegant. This tasting added to our thoughts on Pauillac from 2010, this appellation together with Margaux has done very well from this vintage.
Our next stop was Chateau Lynch Bages, here we tasted Echo de Lynch Bages, Ormes de Pez, Lynch Bages and Blanc de Lynch Bages. Echo de Lynch Bages is the new name (from 2008 vintage) for what used to be Haut Bages Averous. It's 58% Cabernet, 33% Merlot with 9% Cabernet France. A fruit forward style, it's a style that is easy to appreciate. We'll definitely have to look at importing some of this. Ormes de Pez is a great wine, if there was one wine to sum up the appellation of Saint Estephe, it'd be Ormes de Pez, perfumed, fragrant with a wonderful length. Lynch Bages is a strong wine – 80% Cabernet, it's precise, elegant and well balanced, a top wine from 2010.
We then went to Gruaud Larose and tasted with David Launay, David was pleased to see us; it's been about 5 years since he was in New Zealand. Sarget is 70% Cabernet, David explained it's the richest Sarget produced and in fact has the same tannic structure as the 2009 Gruaud, it's fair to say it's the best Sarget I've tasted. Gruaud Larose itself is 65% Cabernet, it has a wonderful palate, sweet and lifted, it's elegant and fine.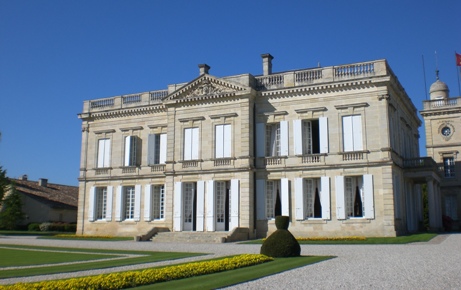 Chateau Margaux was our next stop. In 2010 there's less Pavilion Rouge du Margaux produced, this is due to the introduction of a third wine and fruit being put aside for a fourth wine – in fact there won't actually be a fourth wine it'll be sold off. The third wine does not have a name, release date or distribution method yet, it was first produced in 2009. Pavilion Rouge is excellent, it's pretty, fine and fragrant, after tasting this we were more eager to try the Margaux – presumably it will be even better –it was hard to imagine at this stage. Chateau Margaux is 90% Cabernet this year and yes it's excellent, classic, fine and fragrant. It has tight small berry characters with very fine tannins. Blanc de Pavilion Rouge was the final wine – 100% Sauvignon Blanc, its aged on lees, the nose is quite closed at the moment, the palate though is rich and luscious.
A visit to Giscours was next up, we tasted these wines at the UGC tasting yesterday, and they again showed brilliance.
Next, on to visit one of the wines of the Vintage – Chateau Pontet Canet – incredible colour, almost black, the palate is rich and textured. They have pulled out all the stops to produce a show stopper. This year is also the first Pontet Canet produced under Biodynamic and Organic certification. 24 ha of the harvest was collecting from the pickers using horses, the aim going forward is to move this to 100%. Following the tasting we were invited to stay at Pontet Canet for lunch. Our entrée was a foie gras and puy lentil terrine, followed by a slow cooked beef in red wine and then the most amazing cheese selection. Betty's affinage was there presenting cheeses in the most perfect condition. The Beaufort and chevre selection were superb.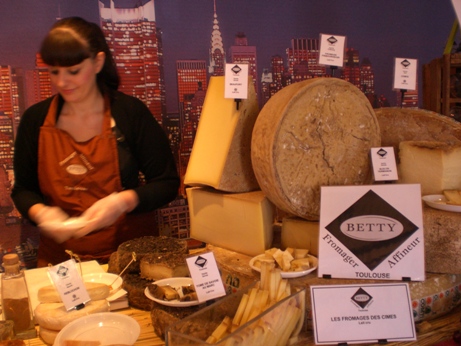 Our last tasting for the day and for the Primeur tastings 2010 was at Pichon Lalande, tasting Chateau Bernadotte, Reserve de la Comtesse, Pichon Lalande, Haut Beasejour from Saint Estephe and Chateau de Pez. The Pichon Lalande lived up to its style expectation being more feminine than Pichon Baron, but only just. It's a bold style (fortunately the Baron is exceptionally big this year so the comparison holds. Pichon Lalande is bold, yet refined and stylish.
That concludes our tasting in Bordeaux for Primeurs 2010; tonight we head to Verona for Vin Italy. There's much more to report from Bordeaux – pricing, allocations, the market ………. I'll ponder these over a glass of Prosecco and post another report shortly.