As the En Primeur campaign starts for another year, I've been reviewing my notes from our time tasting there and trying in some way to come to some overall thoughts on the vintage. To start with I think that those in Bordeaux selling these wines do have a real issue this year – you see it's quite often that we hear – this vintage is better than last, or it's the best ever and in 2009 we heard consistently that the it was 'The best vintage of a life time'. The problem now being that the 2010 appears to be even better, so how do you turn around and market this vintage as the best vintage in a life time – what again! It seems hard to believe and it's tricky for me to give a definitive either way as I have tasted only a few of the 2009 wines and a significant (over 200) yet in the greater scheme of things a 'parcel' of the 2010 wines. They certainly are the best young Bordeaux that I have tasted – an interesting question – do I yet have enough reference points to give a definitive answer. Either way, the wines were superb, I loved the opportunity to taste them and going by the reviews from those who have allot of experience tasting young Bordeaux, we seem to agree – the vintage is exceptional. I have started preparing my notes and will display them along side the international media on our web site this year. I've chosen not to give them points or stars, but rather a guide as to where they fit – top wine of the vintage, great value, a collectors must have and so on.
Overall for the vintage, there are a number of thoughts that stand out;
For 2010, you are clearly tasting (drinking) the different appellations, more than in the 2009, where the wines were very ripe and the vintage quite consistent across the region, in 2010 there are very clear examples of Margaux, Pomerol, Saint Emilion, Saint Julien, Saint Estephe and the other appellations. Terroir has tended to express more clearly in 2010, than in 2009. The characters of the appellations have a slight difference to what we have come to expect, for example the wines of Margaux, they are usually discussed with reference to their feminity, yet in 2010, the wines seem to have some of the power than you'd expect to see in Pauillac, whilst maintaining their feminity.
The acidity in the wines is a consistent and key feature of the vintage, the acidity gives the wines more forward aromatics and a freshness that's quite delightful. The acidity in these wines suggests that they will have a long life ahead of them in the cellar.
The alcohol content of these wines was a touchy suggest in Bordeaux, they are clearly higher than we've seen in recent years, Petrus and Cos are both 14.5%, whilst this was a discussion point, I did not find the alcohol forward or pronounced in these wines.
In the St Emilion Appellation, it's clear this year that the Cabernet Franc liked the season, there's a higher percentage of Cabernet Franc in most of these wines and they are loving it – Cheval Blanc (usually high in Franc anyway) was 56% Cabernet Franc in 2010.
Looking at my notes, if I was to write a list of my top wines it'd go on and on, but there are a few wines that stand out, all for different reasons.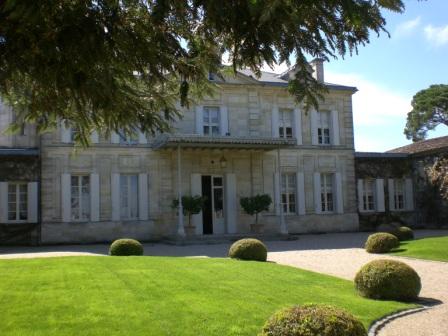 Chateau Cheval Blanc 2010 – 56% Cabernet Franc, 44 % Merlot, like Petrus, the quality of the aromatics was a large step up from the other wines. It has power, structure and the acidity keeps the freshness on the palate, it's excellent, an exceptional example of Cabernet Franc. Cheval stood out for it's sheer quality and also for the discussion it created afterwards, we ended up agreeing to disagree.
Chateau La Fleur Petrus 2010 – this was a stand out wine, the nose promises and then the palate goes on and completely over delivers. It's silky, fine and very smart. This palate is seamless, the back palate has incredible power, the acidity is there and gives it balance.
Chateau Cos d Estournel 2010 – after the different style from Cos in 2009, I was intrigued to try the 2010. The 2010 is 78% Cabernet and 19% Merlot, it's a classic Saint Estephe and a return to style for Cos, it has the earth and iron of the appellation with magnificent leather and spice, a great wine.
Chateau Pichon Baron 2010 – we tasted this alongside the very instantly appealing 2009 Pichon Baron, the 2010 is 79% Cabernet and 21% Merlot. It's a rugged big bold style, there's primary fruit, loads of blackcurrant, it's brambly, rich and super powerful. An incredible length, this is a block buster from this vintage.
Both of the Gruaud Larose wines are true master pieces – Sarget de Gruaud Larose and Gruaud Larose. David Launey things that the Sarget is the best he's made – I'd have to agree. Chateau Gruaud Larose 2010 is 66% Cabernet, 28% Merlot and 6% Petit Verdot. It has a wonderful palate, sweet and lifted. It has great fine tannins, it's elegant with finesse, with a gorgeous palate. The Petit Verdot it adding a wonderful lifted aromatic character.
Chateau Margaux 2010 – I was looking forward to this tasting and it did not fail to impress. Margaux is 90% Cabernet, the balance is Cabernet Franc and Petit Verdot. Initially you notice the fragrance, the perfumed nose, then wow, the mouth feel, it's not a block buster, the tannins are fine, it's classic Margaux, exceptional fruit and elegance – classically fine.
Chateau Pontet Canet 2010 – this was one of the stand out wines of the tastings. It had incredible colour, almost black. The nose is fruity, yet quite closed. The palate is rich, textured and ensured you knew that they had pulled out all the stops. A superb wine.
Already we are seeing huge demand for these wines – there must be lots of smart customers out there – it's not a vintage to miss.