I was very excited to have a booking to eat at Ferran Andria's newest venture. Last time we were in Barcelona we had just been to El Bulli and could not stop talking about it. Ferran's new venture is very different to El Bulli and he has got it just right.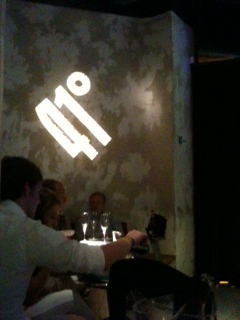 Ferran and his brother have opened Ticket and 41 in central Barcelona. Ticket is a very modern tapas bar, 41 is the cocktail and snack bar next door. The process for booking both is almost as long winded as El Bulli, but with a few more seats and tables turned over in the night, there's a lot more chance you'll get in. We had booked a seating at 41 for 10pm. We arrived and were taken through Ticket to get to 41 at the rear. It's a beautifully appointed cocktail bar with a lovely casual feel. There were about 30 or so people in the bar (which was a nice number for the space) and more than enough staff (imagine the labour cost).
The beverages on offer were interesting, the list started with a selection of sparkling wines, small and concise, then sherry by the glass. The Gin list came next – over 30 different gins, first you selected your gin, then your tonic – the variety was impressive. The next part of the list was the cocktails – all unique and carefully prepared by the team of staff behind the bar. There was no wine list as such, the waiter suggested he could bring us the wine list from Ticket next door and was happy for us to select from that. So a bottle of Muga Rose 2010 it was, but first to the apéritif. We started with a glass of Manzanilla and a glass of Cava. The menu was a collection of small dishes, we ordered a selection of these and the journey began. First up were the olives – similar to the ones at El Bulli, but this time with a little dash of anchovy.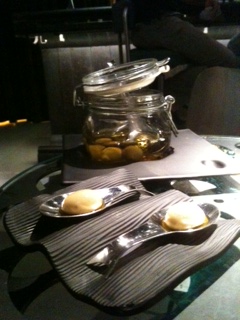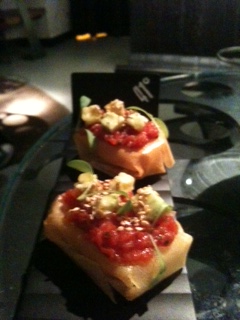 They look just like olives, but are spheres of liquid olive – once you glide them into your mouth, they pop and leave you with a taste sensation. Next was the 'Fake Pistachios' similar to the olives, looked like pistachios but were soft and melted in your mouth. Then it was the Cornetto – a seaweed roll filled with delicious tuna tartar. One of our favourites up next – the Taco, a crispy package of filo pasty, filled with pork crackling and topped with tomato salsa and coriander.
Alongside this we had the fried fish – I just can't work out how they made this – it looked like puffed corn chips – only thinner, but was fish. It sounds unusual, it was, but also delicious. Keeping with the seafood, next was Seaweed with sesame – it was little scrolls of seaweed rolled in sesame.
On to the smoked beef, it was thinly sliced and laid on top of a fine slice of rye. On top was a picture; herbs, a lemony fresh white cream and flowers. The complete sensation was magnificent. For dessert, there were four options, we agreed to try two – but could not in the end work out which two so three it was, Marshmallows, Profiteroles and Macaroons.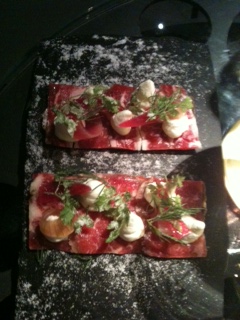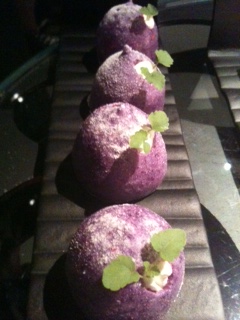 The profiteroles were dried balls that looked like profiteroles but weren't, they were filled with yoghurt and topped with an aniseed leaf. The macaroons were better than anything we tried in France – Ferran clearly has to do a class there on this classical French treat.
Overall we loved 41 and if we could have, we'd have gone back the next night. Ferran has hit the nail on the head with this venture, it's located well, priced very well and the overall experience is well.