Marlborough Vintage 2012 at Wither Hills
After a relaxing Easter break with the family, I was excited to receive an invite from Wither Hills in Marlborough to taste their latest vintage and a selection of Pinot Noirs. It's been a long time since I've experienced vintage, and I thought this was an opportunity not to be missed; especially as I'm born and raised on a vineyard.
On arrival in Blenheim, I knew I was in for a great day, when greeted by Wither Hills winemaker Ben Glover and his fellow winemakers Sally and Matt, along with an esteemed group of wine critics.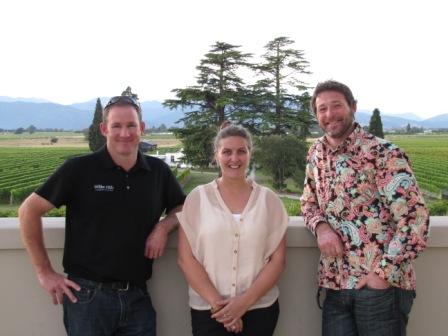 For our first stop, Rex the Viticulturist took us through the Pinot Noir vines, where we witnessed the grapes being tenderly picked by hand. He explained Wither Hills dedication to organic wine growing practices, while we tasted the Single Vineyard Pinot Noirs in the shade of a tree in the corner of the Benmorven Vineyard.
The idea behind the tastings here was to enable us to experience the difference between Wither Hills two main southern valleys sites that grow Pinot grapes, Taylors River and Benmorven.
The fresh 2011s were showcased along with a special sample that was partially fermented in Oak giving it a lovely toasted character. This is used to blend back into the final blends.
In 2007 they bottled very small quantities from these vineyards; but the 2008 "Single Vineyard" Pinot Noirs are being made available commercially and will be on sale this year. I found the 2008 Taylor River to be a full and dark coloured wine, with layers of sweet and youthful red cherry, a great structure, fine tannins and dark fruit finish, while the Benmorven demonstrated even darker wild fruits characters; a soft chalky tannic structure and a classic long lasting finish on the palate. These two wines are definetly worth trying together and were well matched to the mussels, whitebait and lamb dishes served to us by resident chef, Dave Anderson.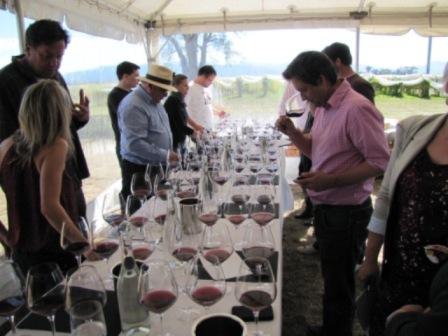 After, it was off to the winery to observe all the action. The grapes that were cooled down from a previous days picking were being processed through the most amazing mechanical sorter I've ever seen. Through lightening fast photo technology it fires pneumatic shots of air to seperate out shrivelled berries and debris, before being placed in fermenters, and then off to barrels to slumber, it was simply amazing
The late afternoon tasting provided an opportunity to try a selection of some of the older Pinot Noirs and experience the aging potential across the years. This was very enlightening, proving that Marlborough Pinots do stand the test of time. We all had our favourites from the lineup of '99 '01 '03 '05 '07, with mine being the chunky dark 2005 which had an intensity I remember well from its youth.
The evening was spent in the depths of the barrel room, tasting the vintages from even numbered years and from magnums, wonderfully matched with a meal of smoked eel and venison from chef Dave Anderson and his team.
Wither Hills has been dedicated to producing great Pinot Noir from the beginning and have consistently attained the highest in quality.They are well deserving of a place in everyone's cellar.
The Marlborough trip was not over yet, I still had two days to get amongst it, and I will fill you in on my next posts.
Cheers
JAK