Akrame was one of the many culinary highlights of our holidays in Europe, located just to the side of the Arc de Triomphe, to get there we first had to navigate the myriad of exit options from the metro. I had read good things about Akrame Benallel and was looking forward to the evening.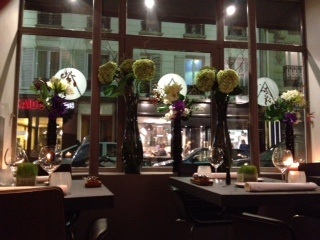 Akrame was trained by Ferran Adria and Pierre Gagnaire and opened Akrame, his own restaurant just over a year ago. The dining room is small, holding about 20 customers and not surprisingly was completely full (I'd been thrilled to get a reservation – some planning was of course required).
There are no menus, rather a couple of choices – 4 courses or 6, with or without wine. We opted for the four course menu with wine. Without a written menu, we had to apply our best listening skills and English translation as each of the dishes was presented. I opted to start with a glass of Champagne (no surprises there), Lanson Extra age Blanc de Blanc, it's a delicious creamy Champagne made from grapes sourced off 5 of the top vineyards including Le Mesnil, the extra age refers to the minimum 5 years ageing. A little amuse bouche to start with of Avocado smeared on Parmesan biscuits, smoked and dried duck with smoked fish caviar.
The first course was a play on textures with egg, not a highlight for me, but very clever. Next up was salad – I must work out how to make my salads taste like this – a delightful mix of fresh green beans and dried jamon. The first course was Hake cooked in milk with vanilla rissoto, lobster bisque and lemon jam.This was matched with the Jaboulet Secret de Famille Viognier 2011. After clensing our palates, with lemon sorbet, the entrecote of beef was served, on top of potato and onion with the most intense jus, this was served with a Carignan from the south of France, which whilst interesting was all too over powering for the subtle characters in the meal.
The final dish was amazing – dessert three ways – as it arrived at the table you had no idea of the delights under each dish as they were neatly stacked on top of each other.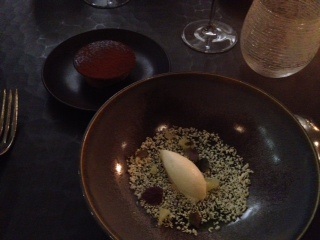 There was cucumber consomme with sorbet and shaved white chocolate, deconstructed cheesecake with liquorice and chocolate mousse with more chocolate. This was matched with a Demi-sec Vouvray. To conclude this superb meal we were served petit fours of melon meringue cake, raspberry drops and a chocolate bar to take home.
Akrame was relatively well priced, and over delivered. The wine matching was a great way to go, although I'd have probably matched things a little differently. A restaurant to watch and one we'll be going back to.