Ardbeg Single Malt Tasting
The Glengarry Single Malt Club gathered together once again to try a line up of Single Malts from Ardbeg. Kerry the piper summoned the lads from the neighbouring waterholes with his Bag Pipes wailing. With one last march up the street to Sales St bar to round up a few stragglers he marched through to the front of the tasting room giving us a fitting opener for a night of whisky tasting. Ardbeg is a big favorite of Kiwi Malt lovers and it has been rare to see anything other than the mainstay 10 year old. But in recent years they have released a few special bottlings some of which we were about to taste and the star dram of the night is their new Supernova a heavily peated Ardbeg at cask strength.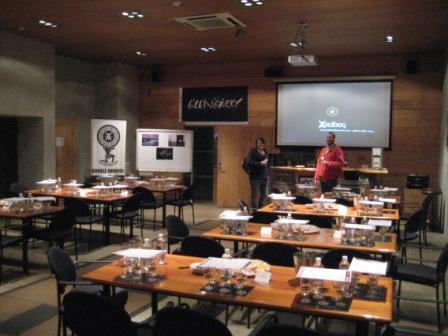 Blasda was the first in the line up and it was also used in the little whisky sour our guest speaker Reece Warren from Ardbeg had wipped up for us as a starter. This limited release bottling was no more than an experiment to test the market for a lighter style Ardbeg. It has a lower strenghth of 40% ABV is chill filtered and has a lower peating level coming in at only 8ppm phenols compared to the 10 year old at 30ppm. The lightness was not everyones cup of tea but we all agreed it was a delightfully fresh style, citrus notes and creamy on the palate. A perfect starter and so it was the old work horse 10 year old next. This was a treat and a number of new members had not tried it. Everyone loved it, the sweet rich smokey peatiness balanced with bready barley flavours makes this the perfect dram for lovers of peaty whisky. At $100 a bottle it is great value as well.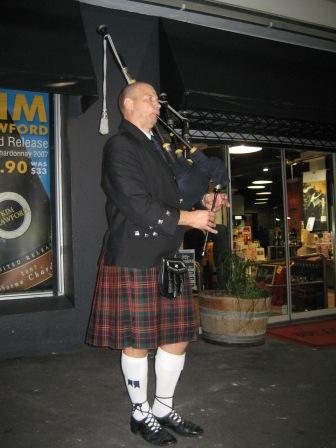 Now next the Uigeadail named after the little stream that supplies water to the distilery. This is a rare whisky and one that will be hard to follow as they have aged this in Sherry barrels for the last 2 years of its 10 year sleep in wood. The darker colour is evidence of this and the flavours of Vanilla and fruitcake are strong. It has a little punch in the back palate adding more power to the big sweet peaty mouth full. This was the peoples choice on the night and certainly my favourite. The next dram was the completely unpronounceable Airgh Nam Biest again another wee stream that flows out of the foothills behind Ardbeg supplying them their water. This whisky had a more uplifted and gentle feel about it, still peaty and rich of course but more accessible and complex than the previous two.
And then the one we had all been waiting for Supernova! With much debate about the name we approached this one with intrepidation. A cask strength Ardbeg at 58.9% ABV and a reported 100ppm phenols it was to be respected and a beast surely. But the colour was pale and this didnt give anything away so to the nose, fresh peaty briny , seaweed as in drying in the sun on the beach..Into the mouth it went with eyes closed waiting for the fireworks! but no it was beautifully refreshing bursting open with fresh liveliness, the peaty smoke balanced by rich barley and clean pure freshness. I was really surprised and by the look around so were many others, "this is easy to drink", "oh I could drink this anytime" I heard people say and so we sat and enjoyed the last of these wonderful whiskies. Thank you to Moet Hennessy for giving us the chance to try these all together and fortunately the boys didn't take all the stock I had been allocated of these rarities so if you missed out I strongly encourage you to get on down to Victoria Park Glengarry and grab some quick as they will not all be available for resupply.
Cheers
JAK