Penfolds is one of the first wineries that I became completely obsessed with, over recent years this has become somewhat subdued, but was re kindled with my visit there in October. On the 28th October, the day started early with a helicopter flight over the Barossa Valley. The aerial view of the Barossa gave me a greater overall understanding of the area.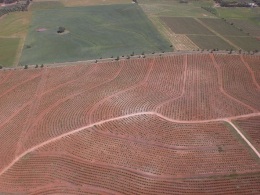 We were joined in the helicopter by Andrew Baldwin, Red Wine Maker for Penfolds. He noted the different Penfolds sites, the types of plantings and the soil differences from the air. The soil differences were most profound, from the lighter soils to the deep rich red. Once back on firm ground, we headed to the Kalimna Homestead for a tasting. The tasting was presented by Kym Schroeder, white wine maker for Penfolds and Andrew Baldwin. Kym went first, Kym's father, uncle and brother all worked for Penfolds and in fact there's been a Schroeder working at Penfolds for more than 50 years. Kym is very passionate about his white wine making and in fact left little time for Andrew at the end.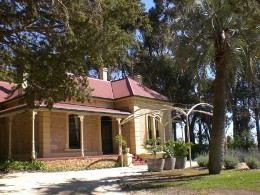 Throughout both the red and white tastings the experimental wine making theme, that is the foundation of today's most iconic Australian wine, Penfolds Grange was evident. Alongside the commercial wines that Penfolds make, there's plenty of small parcel experimental wines being produced, that may just be the 'Grange' of the future. We started the tasting with Bin 51 Riesling, from the 2008 vintage, 100% Eden valley, a very restrained style. Next was Penfolds Thomas Hyland Chardonnay 2008, often referred to as 'Little baby Yattarna' This wine would have to be one of the finds of the tasting, retailing for around $20, it's very good indeed, when you note that anything that does not go into Yattana ends up in this wine, it's easy to see why. We then went on to taste;
Penfolds Bin 311 Tumbarumba Chardonnay 2008
Penfolds Bin 07A Adelaide Hills Chardonnay 2007
Penfolds Bin 08 A Adelaide Hills Chardonnay 2008
Penfolds Yattarna Chardonnay 2006 – Bin 144 – representing the 144 trials before it was eventually released.
We then moved onto the red wines;
Penfolds Thomas Hyland Cabernet Sauvignon 2008
Penfolds Thomas Hyland Shiraz 2008|
Penfolds Bin 138 GMS 2007
Penfolds Bin 28 Kalimna 2006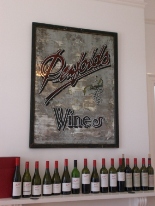 Penfolds Bin 389 Cabernet Shiraz 2006
Penfolds St Henri Shiraz 2005
Penfolds Magill Estate Shiraz 2006
Penfolds RWT Shiraz 2006
Penfolds Bin 707 Cabernet Sauvignon
Penfolds Grange 2004
Following this amazing line up, when then tasted three more red wines (we needed more red off course). All three wines were from the 2008 vintage and highlighted the amazing colour and intensity that this vintage when released will deliver.
On the Saturday night we were lucky enough to dine at Penfolds Magill Estate.
I had previously eaten at Magill Estate back in 2000, at the time, the food was exceptional, very classic in style. A lot has changed, the food is still exceptional, although anything but classical. Executive Chef, Luke Stepsys presented a brilliant Degustation Menu, blending together local produce, classic technique and a lot of the new textural techniques coming out of kitchens like El Bulli. It was fascinating after having dined at El Bulli earlier in the year to see the techniques incorporated so well into a full degustation.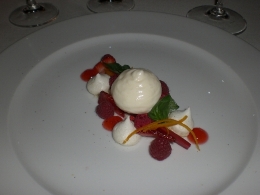 Fish with 'a touch of smoke', horseradish snow, tomato, nasturtium petals and herring roe Bresaola, seaweed sponge, poached marron, radish, soya beans and dashi consommé
2007 Penfolds Bin 51 Eden Valley Riesling
Pork, toasted fennel seeds, liquid cauliflower, morcilla, turnip and compressed green apple
2005 Penfolds Reserve Bin 05A Chardonnay
2005 Penfolds Bin 144 Yattarna Chardonnay
Rabbit, butternut pumpkin 'tears', candied lemon, bacon, dates and bitter coffee jelly
Squab cooked sous vide with foie gras, celeriac cream, pineapple, liquorice and gingerbread
2007 Penfolds Cellar Reserve McLaren Vale Tempranillo
2006 Penfolds Magill Estate Shiraz
Lamb, goat's milk cannelloni, black olive dust, carrot, rosemary and roast potato water
2004 Penfolds Bin 95 Grange
Strawberry, freeze dried raspberries, yoghurt powder, meringue, rhubarb and orange peel
Mint, aerated chocolate, mandarin 'cloud', pistachio soil and cardamom infused chocolate
Penfolds Grandfather Rare Tawny
Espresso coffee and petite fours
Penfolds Magill Estate is definitely one of the top restaurants in Australia and well worth a visit.