A highlight of each month at Glengarry is our fine wine training. This occurs once a month, when a selected group of our team from Auckland and Wellington get together to taste wines from our cellars. This represents a big investment for the company, highlights the importance to us of training and is absolutely necessary. During the year we have tastings everything from Bordeaux to Rioja, Burgundy to Ribera del Duero and everything in between. After each tasting it's become customary to go out and enjoy a meal together. Most evenings the cuisine is ethnic as there's a real lack of good BYO restaurants around Ponsonby. For the last tasting of the year, something a little different was required. So a theme of aged wine was set and I offered to cook a meal to match. There's ten of us that taste monthly, making a nice number for dinner and a perfect challenge for our new Wood fired pizza oven.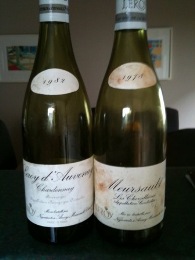 The wine stole the show, but before moving to that, a little about the food. We started with some freshly smoked salmon, marinated in Appletons rum and spices, we smoked in for 15 minutes. Served with Aioli and bread from the oven. The main event was a braised duck dish in the pizza oven, to feed this number, 2 ducks were definitely required. A cheese course followed and was matched with the Bordeaux for the evening. The meal concluded (but not the night) with a delicious almond cake.
The wine……… there were many bottles throughout the evening. We started with Alan McCorkindale's Blanc de Noir from Magnum, this was very refreshing and a perfect way to start. The highlights for me were the next wines, aged white Burgundy. We tasted four wines, two Leroy and two Nicolas Potel. The Leroy were outstanding;
Domaine Leroy 1982 Bourgogne
Domaine Leroy 1978 Mersault Les Chevallieres
The first wine, a straight Bourgogne was viewed with wary glances around the room, but once in the glass highlighted that a Bourgogne can last that long, whether it benefited from the time in the bottle, a few years maybe, but this many was a little too many.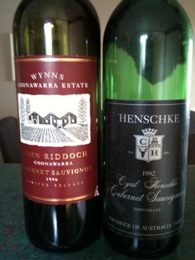 It did however, make an interesting wine to taste. The 1978 was for me the best wine of the night, the nose was perfumed and intense, a please in itself.
Red Burgundy followed the white Burgundy, then the Chilean, the Argentinean and the Australian. The highlights from the Australian were the Wynns John Riddoch Cabernet Sauvignon 1996 and the Henschke Cyril Cabernet Sauvignon 1992.
After the Australian wines, we moved onto the Bordeaux, the highlights of this line up were clearly the Chateau Pontet Canet 1978 and 1983, one was unfortunately corked. To complete the evening we tasted two superb 1996 New Zealand sweet wines, once from Te Whare Ra and one from Martinborough Vineyards. The latter was outstanding.
An excellent night, amazing old wines and a very slow next day.