We have the Isle of Jura in stock now. These amazing Island Malts are legendary. Become a member of the clan and sample these drams as soon as you can. Hear what they say on their web site. And check the great tasting videos. www.isleofjura.com
– LIVE A LIFE LESS ORDINARY. BECOME A DIURACH –
Diurachs, as the islanders of Jura are known, possess an 8,000 year long and fascinating history of myths, legends, unusual ways and, on occasion, the inexplicable. From a seer who predicted the demise of the island's ruling clan, to the savage yet beguiling beauty of the island and its remoteness, there's many a tale to get the conversation flowing over a dram or two of the finest of malts.
We're inviting our friends to become Diurachs for life, and enjoy much more than just our exquisite malt whisky.
Sign up today! Become a Diurach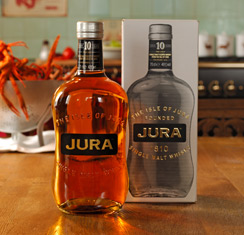 – JURA 10 YEAR OLD CLASSIC ISLAND MALT –
Off the west coast of Scotland lies a magical island of soft sea breezes, freshly caught lobster and a bank that comes once a week. As good as life used to be. One shop, one pub, one community. One fine malt whisky distillery. A gift from nature. Pure spring water, clean fresh air and generations of tradition quietly crafting a more delicate island malt. Visit the island, meet the people, drink the whisky.
AGE – 10 years
COLOUR – Deep amber gold
NOSE – Light, rich and aromatic. Positive and firm. Silky, almondy wood notes
PALATE – Firm, distinguished, elegant tones. A fruity oiliness with just a hint of smoke gently enriches the palate
– SUPERSTITION –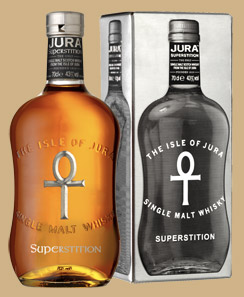 The people of Jura are superstitious. From the prophecy of the one-eyed Campbell to an aversion to cutting peat before May, age-old island beliefs resonate to this day. Drawing on our finest older malts and spring-peated younger whiskies, Jura Superstition is a tribute to the people, the traditions and the mystical heritage that make Jura island life unique. Visit the island, meet the people, explore the past.
COLOUR – Deep intense mahogany with glittering sun rays
NOSE – Firm and positive, yet forcibly mellow. Strong accents of phenolic aromas. Rich, sensual nuances of honey and marzipan.
PALATE – Spice, honey, pine and peat aromas make a dramatic impact, the long years in oak casks have tempered and tamed this mystic spirit creating a long, lingering and tantalising aftertaste.
BRONZE AWARD WINNER AT 2005 INTERNATIONAL WINE AND SPIRIT COMPETITION