I first came across Greg Malouf's wonderful food a number of years ago when Catherine Bell asked me to match some wines to a class that Greg was running at Epicurean Workshop in Newmarket. Since then I've had the pleasure of dinning at Momo a couple of times, each a memorable experience. Momo used to be located in the space that is now occupied by Jamie Oliver's Fifteen Melbourne. After an extended break, Momo has re-opened in the new Hyatt complex in Melbourne.
The decor is simply stunning, exactly what you'd expect for the elaborate middle eastern meal that we shared in November 2009. We opted (of course) to have the degustation sharing menu. Each course came out on small plates, which we then shared. So to the entrée's first;
Crunch zucchini blossoms stuffed with house-made haloumy on tomato and white anchovy salad.
Lake Entrance garfish fillets in brik pasty, chermoula, egg, spinach and chive labneh
Kingfish ceviche, smoky baba ghanoush and lambs lettuce, sugar-dried olives and hazelnuts
Veiled quail covered in leaves with chorizo-pine nut stuffing and mustard whipped feta
The wine list was extensive and offered a good variety, we started with a gorgeous glass Vouvray and a lighter Albarino. The entree course provided many of the evenings dining highlights, the smoky baba ghanoush (which I've since managed to recreate) was brilliant, the texture smooth and silky, with just the right amount of smoke. The Veiled Quail (the dish that has won the Dish of the Year in Australia) was exquisite, the mustard whipped feta brought it all together.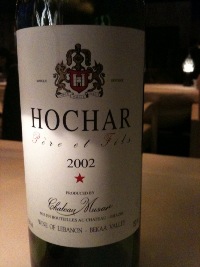 The main courses then followed;
Bowen farm barramundi, orzo pasta, young fennel, tomatoes and mussels
Grilled devilled lamb lion, beetroot, shankleesh cheese and whipped parsnip
The barramundi was delicious and the lamb tender, these dishes though fell a little flat after the inspiring dished of the entrée course, until the sides came along – warm potato salad, smoky paprika and almond tarator dressing, Leek, currant and aged feta spanakopita with pear – prosciutto salad.
With the main course we had Hochar 2002, a Lebanese wine made by Chateau Muscar. An interesting red wine, it was definitely ready to be drunk, showing some aged characters, the fruit was beautiful and the finish fine. A nice match to all the different flavours of the meal.
The dessert course followed (although at this stage, I was not sure where I was going to put any more food).
Mango and strawberries with pineapple – orange blossom sorbet and pistachio halva
Cinnamon and banana ice cream, blackcurrant jelly and leatherwood honey wafer
Medjool date and chocolate tart, cardamom, kataifi and crème fraiche
Sweet bistayeea with orange and lemon verbena pudding and pistachio sugar.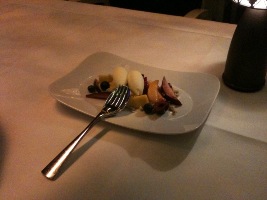 Overall it was an excellent meal, the service was top notch and combined provided a unique experience, I'll definitely be booking a table next time we are in Melbourne. I would highly recommend the sharing menu and taking your time to enjoy dinner here, it's an overall experience and needs time – there are a large number of flavours and courses.