Gisselbrecht Night
Join us for one of the many winemaker dinners we host at Glengarry and Dida's, here is one we held for Claude Gisselbrecht. Visit the Tasting page on our site for one coming up soon.
From Alsace we have been importing the wines from Willy Giseelbrecht for many years. Many of you will have tried the Pinot Gris a benchmark wine that many Kiwi winemakers aspire to replicate. But this small artisan wine making family are reknown more for their Riesling of which they make 15 variants from the vineyards they own. Pinot Blanc as well is a very important variety for them and of course Gewurztraminer from which they make a delicious dessert wine "vendages tardives".
Claude Gisselbrecht was so kind to visit us and show off these wines to the team at Glengarry and host a wonderful dinner where Dida's Chefs Conal and his team prepared matching courses.
These small winemakers dinners are great fun and a chance to meet the people behind the wines. Claude told us of his family roots and the challenges they face in making wine in France today. Here are a few shots of the night. Be sure to try his wines soon you will be delighted for sure, exceptional wines. Enjoy.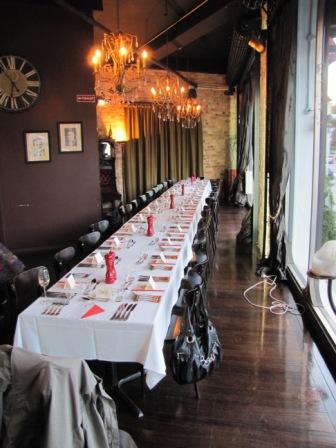 t