I recently had the opportunity to taste a very impressive line up of old wines, all of which had been perfectly stored and were served in ideal conditions, (Riedel Sommelier glasses). This got me thinking about ageing wine, the benefits and the pitfalls (although there weren't any this particular evening). Most tasting evenings that I host, the questions on ageing is always asked, (if not a few times) – 'how long will this age for'. It does seem that there's a perception that wine gets better with ageing and it's the 'right thing' to do with wine.
Whilst certain wines can definitely be aged, whether it's beneficial for them is an interesting discussion. It's often more about personal taste and the anticipated experience. Then there's whether the wine in fact can age.
There are many components in wine that affect its ability to age. Tannin is one of the key parts, tannin in a wine comes from the grape skins and the seeds, the different grape varieties have differing levels of tannin. Tannin is also found in tea – try making a very strong cup of tea, take a sip, that dry feel in your mouth is tannin. Over time as wine ages the tannin in the wine dissipates and the fruit comes into balance, as this occurs the wine displays a lot of harmony. Does this change improve the wine? It depends on how you like to drink the wine, it certainly does change the wine.
Such a large part of all wine produced is made in a style for drinking now. Last night, I was at a re launch of Matawhero wines (a very historic New Zealand wine company – it's great to see them back on stream) and was talking with Kim Crawford about making wines for drinking now vs. the production of wines designed to age. With alarming stats on how quickly wine is consumed once it leaves a retail store, making wines for young consumption sure does make commercial sense.
If you are going to age wines, the storage conditions are off course very important, a constant temperature, very little vibration and consistent humidity are essential. The condition of the wines before going into the cellar is also key, purchasing off a reputable shipper that imports all of their wines in refrigerated containers is very important, even the best cellar conditions won't make up for incorrect handling during transport to NZ, the retailer and their storage. Before going to all this trouble though, it's wise though to work out whether you will in fact enjoy the experience of aged wines. I've always been a large fan of aged wines, preferring the aged, developed characters, particularly in Bordeaux.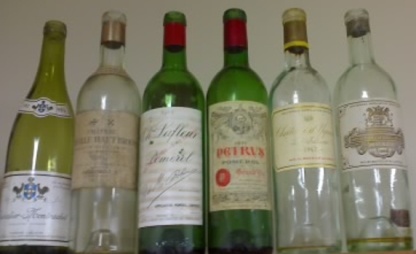 So back to the impressive line up, here's the wines we tried;
Laflaive Chevalier Montrachet 1983
Chateau Laville Haut Brion 1961
Chateau La Fleur 1982
Chateau Petrus 1971
Chateau d'Yquem 1967
Chateau Filhot 1949
Picking a favourite from this line up is very tricky. The Laflaive was very good, the age perfect for my taste, the nose expressive and the palate perfectly intergrated. The La Fleur was instantly impressive, it showed very quickly in the glass and had amazing hits of violets. The Petrus took a little longer to show it's pedigree, these two were served together and in the end for me the Petrus won out. The Sauternes to finish were fascinating, the d'Yquem was a dark golden colour, rich syrupy and luscious. The Filhot, almost brown, was an excellent wine to finish with.