Forage at Cloudy Bay is an inspired Food and Wine event, now in its third year. I was lucky enough to be one of the selected guests for this year – a big thank you to Moet Hennessey. On the last day of February, twenty four wine and food lovers headed from Hong Kong, Singapore, France, Australia and New Zealand to Blenheim for two days of unique local food and wine experiences. The concept of Forage is to gather all the ingredients for a meal locally and bring it together for a shared meal.
We arrived on Monday afternoon and were taken directly to our luxury accommodation at Bec Lodge. Bec is a Lodge and Spa nestled on the hills about twenty minutes out of Blenheim. There are six very well appointed rooms, a central kitchen and lounge area, a gorgeous pool, spa and sauna. The fridge was of course full of Cloudy Bay delights, including the superb vintage Pelorus. We rested for a few hours, sipped on Pelorus and then headed to Cloudy Bay for dinner.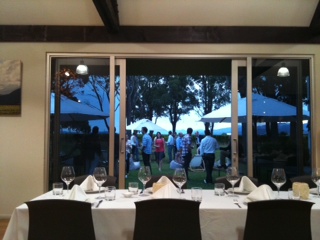 Dinner was a described as a casual New Zealand BBQ – which in a way it was, but with a dollop of gourmet on the top. First course fresh whole fish, second course lamb racks, the nectarine tarts followed by an excellent cheese selection. Dinner was an opportunity to meet our fellow foragers and gather an insight into what the next day had in store.
Tuesday morning was an early start, we rose and walked out our rooms to see a table set for the entire group, who soon arrived and joined us for fruit and yoghurt, followed by fresh pastries and then a cooked breakfast. We then divided into four smaller groups, heading North, South, East and West. My group headed towards the Wairau River, stopping first at Windsong Orchard where we meet the effervescent Jennie. The Orchard grows a variety of fruit, we started by tasting 8 or so different varieties of blue berries, they certainly made the kind you find in the supermarket taste bland and un varietal. Then it was time to look over the plum trees, they have rows of different types, all ripening at varying times.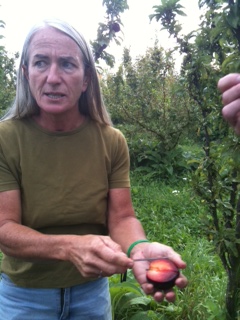 My favourite was Louisa a very sweet plum, we collected a bag of these and were on our way. From the Orchard we headed to Pinoli Pine nuts, where Lee talked us through the fascinating project they have established. With pine nuts in hand, we were joined by our fishing guides. We headed off for the banks of the Wairau River to a 'practice pool'.
Our guides took us through how to cast and what to do if we caught a fish. We then divided into two groups of three, 'suited' up in our waders and boats and headed off across the river. I was with Jim White, Cloudy Bay's Viticultralist and our French Samuel from Hong Kong. Samuel had never fished before, casted and caught a beautiful Marlborough Salmon. With all our forages ingredients sorted, a helicopter arrived to take us back to Cloudy Bay. Our flight followed the Wairau River down to Blenheim; it was fascinating to see the vineyards, with all the varying conditions from the air.
We arrived at Cloudy Bay to display our produce alongside our friends who had been hunting, oyster, pippie and fish catching, cheese making and vegetable gathering.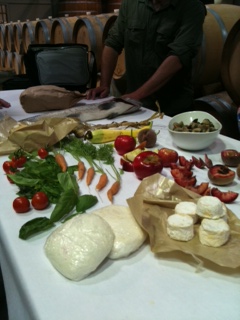 The Chef challenged with turning this around into a dinner was the talented Martin Bosley, Martin seemed rather pleased with our gathering, and we were set off to rest whilst he got to work in the kitchen.
We arrived to a magnificent meal matched with aged Cloudy Bay wines. The first course was Tio Point Oysters matched with Pelorus Vintage 2001. The second course of our degustation was Little Fish Company Sardines on toast, pickled potato, pine nuts and smoked tomato sauce. Matched with Cloudy Bay Riesling 2006. The Sardines had been freshly caught by one of the groups that day. Samuel's salmon followed, served as a Salmon Tartar with the most exquisite lemon peel puree, freeze dried Mandarin, lemon oil and rosemary. This was matched with the 2010 Cloudy Bay Sauvignon Blanc. The next course was the most unusual of the meal, but somehow one of the most memorable, a salad of Heavens Scent vegetables and Sherrington Grange Heard Goats Cheese, another of the treasures that one of our group gathered. This was matched with the Cloudy Bay Te Koko 2005, a wine that has its lovers and those not so keen; personally I adore this kind of Sauvignon Blanc.
At this stage we could have quite happily stopped, we'd already been treated, but no, Martin had more delights in store. Our fist course followed, Tarragon Butter – Poached Koura, Garfish, Summer Corn and Salmon Roe, a delicate super fresh fish offering, matched with Cloudy Bay Chardonnay 2006. My favourite course was us next – Glazebrook Hunting Lodge Red Deer, Creamed Carrot Puree, Duck Liver Mousse, Spiced Prunes and Mushroom Sponge Cake. A gorgeous course, matched with the Cloudy Bay Pinot Noir 2005. Last but not least, Windsong Orchard Plums, Warm Consommé, Coeur a la Crème, Molasses Sugar Ginger Cake, Candied Walnuts and Basil Mousse. The Candied Walnuts were inspired. This course was matched with Cloudy Bay Lake Harvest Gewürztraminer 2008. Complete and inspired we headed off to Bec Lodge for a great night's sleep.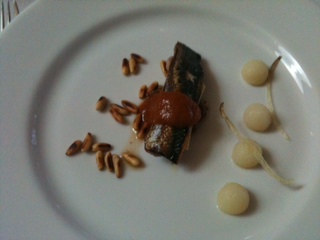 Our second day started off with a sleep in, breakfast at 8.30 and unfortunately a little too much rain and wind in Marlborough for the planned outside actives. We instead headed for the winery and a series of tutored tastings. The first a vertical of Marlborough Sauvignon – not my pick to start a day, but from interest point of view, very cool. The 1999 was looking a little tired, the 2001 was surprisingly good. All showed a sense of the same place, varietal difference and a style particular to Cloudy Bay. The palates had a richness and full flavour. Wines with more than upfront aromatics, an excellent style. We then tasted through the Cloudy Bay range, including the new Pelorus Rosé, although it can be labelled vintage and are currently the 2007 vintage, it's labelled simply Rosé. It's the best Sparkling Rose I've tasted from New Zealand. After a BBQ lunch, the weather cleared and we then headed off in a bus for a look at fruit on vines, starting with Sauvignon in the Rapaura area, looking at the soil type there and the fruit characters. We then went up back of the region to Cloudy Bay's new plantings of Pinot Noir and a good walk around the vineyards.
That concluded our time with Cloudy Bay and Forage, a great experience, inspirational. I met great new friends and learnt allot about the local produce and the region of Marlborough.